With distant views of Ben Nevis (Britain's highest mountain), sited opposite Glencoe, on the shores of Loch Linnhe and at the entrance to Glen Gour – Ard Daraich is well placed to enjoy all that is good about the Ardnamurchan peninsular and this little known part of the West Highlands.
Ard Daraich Garden Studio is a self-catering romantic cottage for two. Set within the eight acre garden, started by Constance Spry and now a large and well-known collection of Rhododendrons, the Studio offers accommodation within easy reach of several 'Corbetts' and only a short walk from a sandy beach.
The living space is open plan with fitted kitchen and integrated appliances at one end and wood burning stove with two sofas at the other. French doors open onto a small self-contained garden and terrace looking towards the River Gour and on to Ben Nevis. Upstairs is open-plan with king-size bed and en-suite bathroom and more spectacular views.
The Garden Studio has been converted to a high standard of eco friendliness, with the under floor heating boosted by a wood burning stove and logs from the garden. There is a passive ventilation system and thick insulation, whilst inside there is a drying room to get outdoor clothes dry after expeditions in bad weather.
This is a cosy cottage in a beautiful place, accessible but with the relaxation of somewhere remote.
In addition to the details above, here is some more information to make sure you have an enjoyable stay.
If you would like to order eggs, jam, chutney or marmalade for your stay, please let us know, we make them all here at Ard Daraich
We also have access to locally grown Venison, Lamb and Beef which can be ordered in advance. The cuts will vary depending on availability.
Many of our guests leave a few groceries in the cupboard when they depart.
We are very happy to defrost some meat so with a few vegetables and something for your first breakfast you can shop after arrival if you don't have time on your journey. Herbs are almost always available in the poly-tunnel.
Arrival is from 3.30pm.
Departure is by 10.30am.
The Ferry runs every half an hour and so the waiting time is short.
From the other side, the sailings are quarter to and quarter past the hour and the crossing is five minutes.
The last ferry is at 21.30 but we strongly recommended catching the 21.10.
For dog owners, we ask that you stick to a few house rules.
No sitting on the furniture, sofas and bed.
Not left unattended at any time
Active pooper scooping in the Studio Garden and kept on leads at all times in the vicinity of the main house and garden as we have four cats and free range hens who often sit on your doorstep!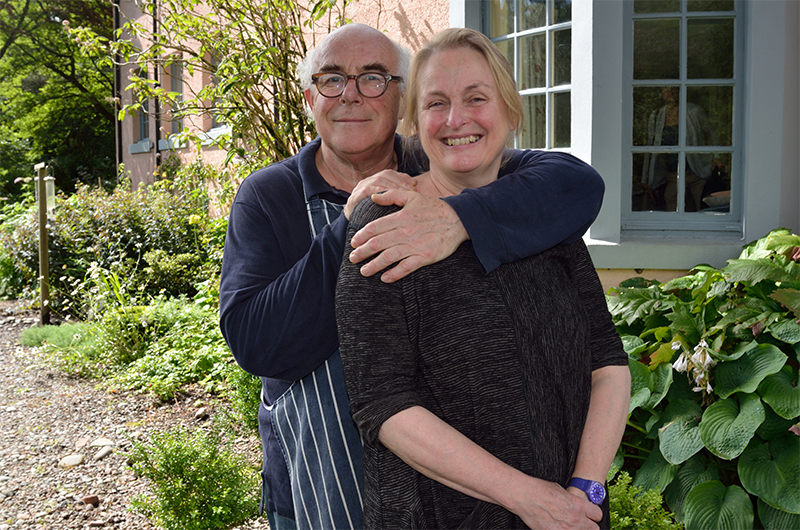 Anna & Norrie Maclaren, Owners
Artist and Gardener, Anna Raven and her husband Norrie Maclaren have lived at Ard Daraich for over 15 years. Norrie took over the Hill Garden and Shrub Nursery in 1999 from his parents who bought Ard Daraich in 1969. Once the holiday home of Constance Spry, The Maclarens, both father and sons, developed a garden that is now of special interest. On her arrival, Anna converted the potting shed into a self catering cottage within the garden making it an ideal retreat for garden lovers. The main house offers a self-catering option for 4 and Anna paints in her Studio whilst Norrie had a career in photography, film and television. The house is full of art and personal memorabilia and The Maclarens welcome everyone as friends. In the spirit of Highland hospitality!